In the Middle of a Pandemic, Biotech Students Secure Prosperous Fall Internships
Posted in Beyond-the-degree General Page News Story Uncategorized
One of the many highlights that the Georgetown University Master's in Biotechnology Program offers to their students is a capstone internship that provides practical work experience in the biotechnology field. These internships can range from working in the private sector at a big pharmaceutical company, to the public sector working with the FDA, or to the academic sector performing research in a clinical laboratory setting.
BIOT-502, Biotechnology Capstone Internship, is directed by Instructor and Internship Director, Khuyen Mai. This course subsequently follows BIOT-590, Introduction to Biotechnology Internship, where students are introduced to the biotechnology employment opportunities that are associated with Georgetown University or offered in the DMV (D.C., Maryland, Virginia) area. Internship mentors come from different professional backgrounds so that the students are exposed to a wide variety of career paths.
The COVID-19 pandemic struck in the middle of the spring 2020 semester. Students not only faced a public health crisis and unavoidable financial hardships, but their employment and internship plans were either delayed, continued remotely or terminated. Although it was initially difficult to readjust while many businesses shut down operations and were not accepting interns, our spring 2020 cohort (made up of six students) was able to persist and secure internship positions for the current fall 2020 semester.
Business Offers Unique Advantages in the "Pandemic-Era"
Andreas Zembashi is from Cyprus and is pursuing an M.S. in Biotechnology on the BioBusiness Track. After majoring in biology and minoring in chemistry during his undergraduate years at University of Tampa, Andreas knew he did not want to pursue a lab-based career post-graduation. While looking for internship opportunities earlier this year in January, he came across business and consulting positions that sparked his interest. Since Andreas had gained experience in an isolated lab environment throughout undergrad, he felt that it was more conducive to his personality to seek out opportunities that involve a social aspect, whether that includes a career path that involves networking at conferences or pitching market research to clients.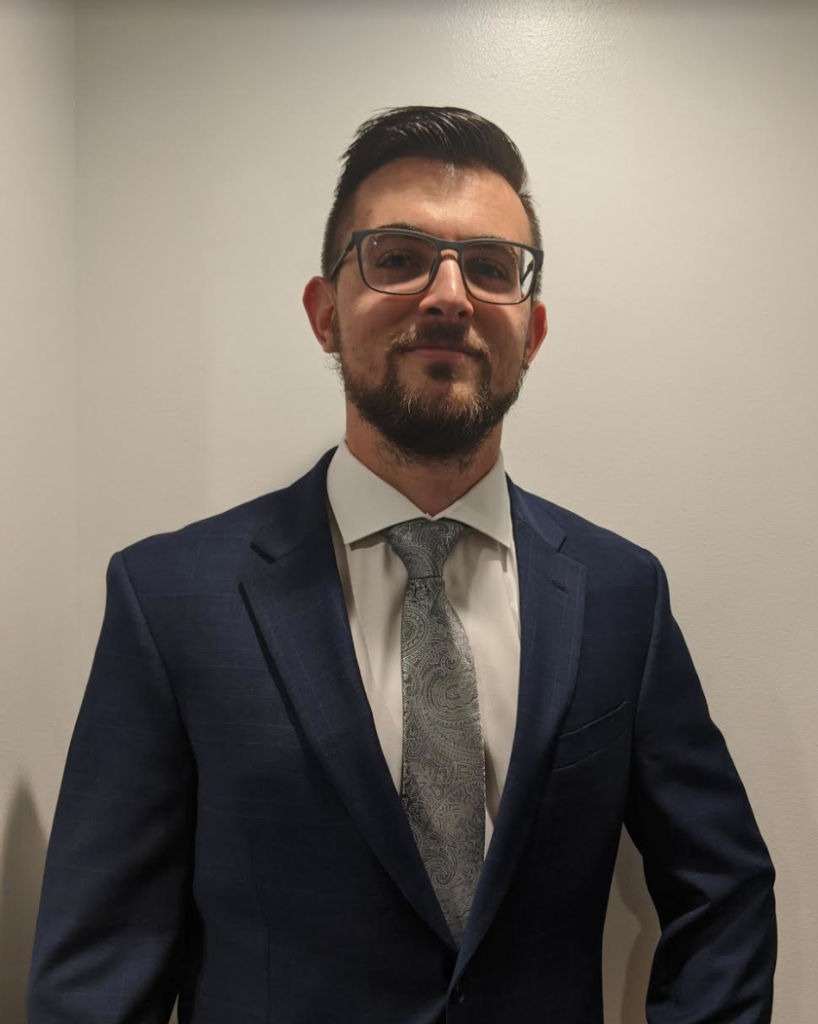 When the COVID-19 pandemic hit, Andreas endured a standstill in terms of his internship search process. Professor Mai was able to put him in contact with a mentor at Pointe Advisory who works in the healthcare agency. After multiple interviews via Zoom and email, Andreas chose to pursue his capstone internship with Pointe Health because the ability to gain crucial experience where he would perform competitive intelligence research would be advantageous for his future career prospects.
Andreas will be interning at Pointe Advisory as a Business Insight Intern where his capstone internship objectives include performing primary and secondary research focused on competitive intelligence surrounding specific biotechnological products. Primary research consists of directly contacting individuals who are using the products such as physicians. Secondary research is compiling market information from website sources and academic journals. Classes such as BIOT-551, Commercialization in the Biotechnology Industry, taught by adjunct faculty member Stephanie Duatschek, helped Andreas leverage his biotechnology business skills and build off his previous knowledge that was established at the beginning of his graduate career.
Some of Andreas' helpful internship search advice revolves around researching the companies you are interested in. After looking up biotechnology companies on BioPharmGuy.com, he would spend time looking up the company websites to learn more about the specific projects available and the therapeutic areas that the products focused on. Andreas' biggest take-away when marketing yourself during the internship search is to take the initiative of calling the company when they fail to respond to your email. More than likely, you will be directed to a receptionist who might be able to plug your contact to someone within the organization who might know of an internship or employment role for you.
GUMC Re-Opening Plans Includes Students Involved in On-Campus Research
Sri Suresh is from India and is pursuing an M.S. Biotechnology Candidate on the BioScience Track. After previously obtaining an M.Sc. in Industrial Biotechnology back in India, Sri knew that she wanted to work in the United States to gain international exposure working with cutting-edge technology in laboratory and industry settings specializing in human and animal cell culture studies. Her interests in molecular biotechnology peaked while working in a federal government agricultural research laboratory that specialized in plant tissue culture and molecular genetics.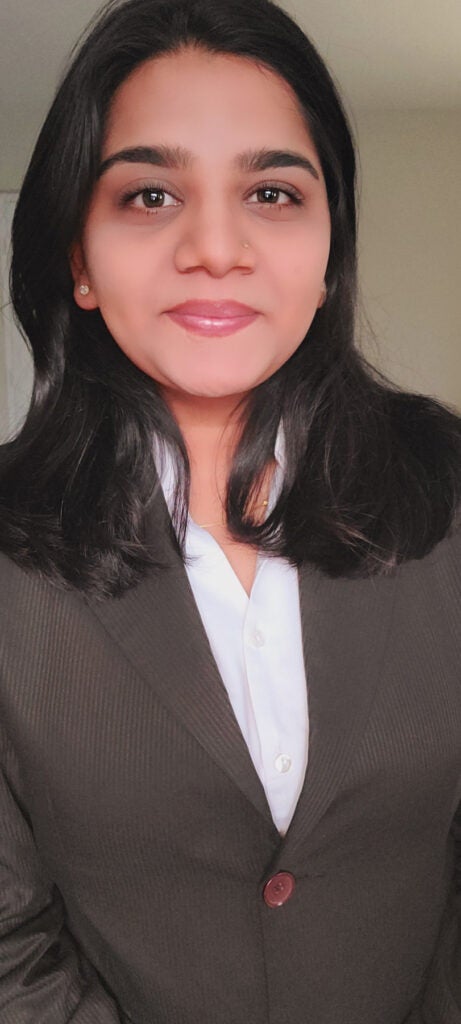 Sri was initially drawn to the Georgetown University Master's in Biotechnology Program due to the strong alumni network, pioneering research and acceleration of the course structure. Students are required to complete 30-credits in nine months as opposed to other two-year programs. Completing the Georgetown University Master's of Biotechnology Program here in the United States would grant her the opportunity to gain crucial work experience in research areas that she is interested in through the capstone internship and the Optional-Practical Training (OPT) post graduation.
Sri is performing her capstone internship in Dr. Yuchiro Suzuki's Cardiovascular/Pulmonary Pharmacology Research Laboratory at Georgetown University Medical Center (GUMC). She is studying the "Effects of Viral Fusion Protein-Mediated Cell Signaling" by SARS COV-2 and HIV in lung vascular cells.
When asked about the steps she took to obtain this internship, Sri mentioned that it was tough to secure a position without previous work experience related to animal cell line cultures. She was able to leverage the lab-based skills she learned from her coursework. Taking classes such as BCHB-507, Laboratory Applications of Biotechnology, taught by Professor Khuyen Mai, trained Sri in important lab-based techniques like immunoassays and hybridizations. She will be applying and utilizing these techniques in her capstone internship this fall. The BCHB-526, Core Methods in Biotechnology course, directed by Professor DiVito and taught by multiple lecturers, helped her build a foundation that includes knowledge about concepts widely used in molecular genetic research. While going through the internship search process, she mentioned how important it was to have hands-on experience and how her knowledge of these techniques through course instruction was a good lab foundation for her. The courses on the BioScience Track were able to sufficiently provide Sri with the wet-lab experience she needed to succeed in obtaining her capstone internship for this semester.
Innovative Virtual Methods Illuminate Employment Opportunities
Many students and recent graduates are all finding themselves in the same situation. We are all experiencing the hardships associated with finding employment positions in one of the worst job markets of our generation due to the current pandemic. Although we have encountered setbacks throughout this period, there is a light at the end of the tunnel that is attainable through hard work and dedication.
Some students have found unique advantages that were only revealed through this transition to online learning. For example, I've learned that networking is currently just a "Zoom Call" away. Gone are the days of waking up at the crack of dawn to press iron your suit and commute 30-minutes on the train to a physical location. With the ease of communicating via online platforms, students are able to successfully increase their networking connections by reaching out to professionals from every coast and country by setting up one-on-one video meetings. I found that these Zoom Calls were beneficial for setting up office hours with my professors as well. They were more than happy to meet with me using this platform to discuss classroom and societal issues we face during this pandemic.
The COVID-19 pandemic has also illuminated various opportunities for STEM scholars (science, technology, engineering, and math) to pursue employment in various biotechnological market sectors. Whether one is interested in performing research and manufacturing a COVID-19 therapeutic or be directly involved with the public policy development planning vaccine distribution. This public health crisis has proven that biotechnology jobs will always be necessary regardless of the situation we might find ourselves in.
---
By Tierney Sovic, MS in Biotechnology Candidate, Dec 2020
Contributors: Sri Suresh, Andreas Zembashi
Edits by Vasna Nontanovan