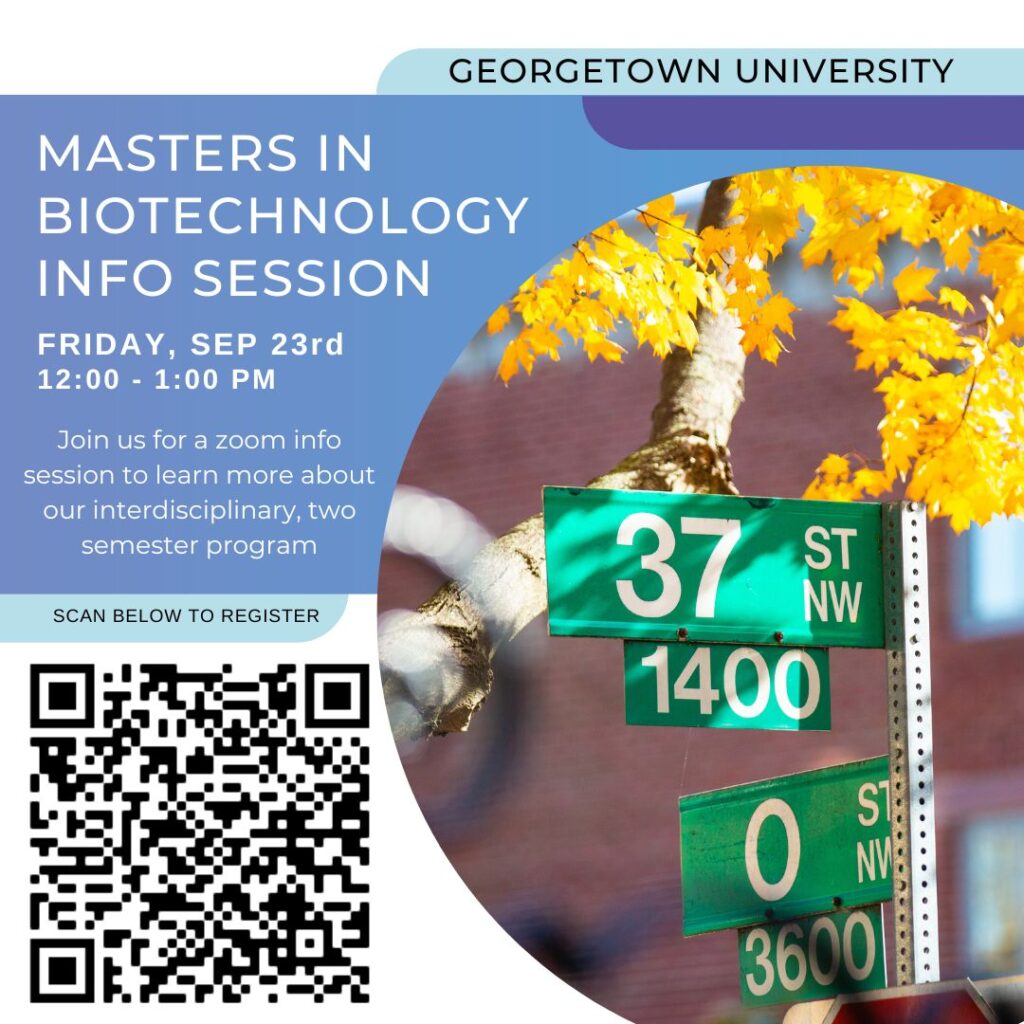 Georgetown Biotechnology Information Session
If this is your first time hearing about the Georgetown Biotechnology Program, our Information Sessions are a great start for you! The goal of the Information Sessions is to give interested students an overview of the program and to engage in an interactive dialogue with our prospective students who are discovering the next generation of biotechnology. We look forward to meeting you virtually and hearing your questions about the M.S. in Biotechnology. Register for the September 23 virtual information session or scan the QR code to join us!
---
The Master of Science in Biotechnology and the Certificate in Biotechnology BioBusiness programs require an online application to be submitted to the Biomedical Graduate Education through the Georgetown Graduate School of Arts and Sciences application portal.
Each year, the MS in Biotechnology Program at Georgetown matriculates approximately 60 students from a wide variety of academic and professional backgrounds. Admission to our program is highly selective. In addition to meeting our application requirements, applicants must be able to demonstrate a strong willingness to master concepts in legal and business studies in addition to the their coursework in biochemistry and molecular biology. Special considerations are given to applicants with work experience.
Program Admission Requirements
Applicants are to submit all required credentials and supporting documentation no later than the application deadlines listed below. Applications are reviewed on a rolling, space-available basis. You can begin the application process at any time and save your progress until you are ready to submit your completed application.
Applicants to the program must be in the last semester of undergraduate study or hold a bachelor's degree in biology, chemistry, engineering, or related sciences from an accredited college or university. Applicants with business, law or other degrees will be considered on a case by case basis.
Application Checklist
4-year Bachelor's degree*
Grade point average of 3.0 or higher
2 Letters of Recommendation
Academic Statement of Purpose
Non-refundable application fee
GRE Score (Recommended but not required)
Georgetown Univ. Code for BGE: 5244
TOEFL/IELTS Score (if applicable)
TOEFL: Georgetown Univ. Code for BGE: 5244
IELTS: Georgetown Univ. Graduate School of Arts & Sciences
InitialView strongly recommended for international applicants
Application Deadlines
Fall admission: Priority deadline is May 15*. Final deadline is July 1.
Spring admission: Deadline is November 1.
*International applicants seeking Fall admission are encouraged to apply by the May 15 priority deadline to allow sufficient time to apply for a U.S. visa.
For international students, the visa application process can take weeks or months and varies based on your country of origin. To help ensure that students receive their visas in time for registration, the program suggests that applications to the program should be completed by May 15 priority deadline. In the event that visas are not received in time, students may defer their admissions and delay their arrival to the following spring or fall terms with no additional charge.
SCHOLARSHIPS:
MS Biotechnology Merit-Based Scholarship:
All students are considered for a merit-based scholarship upon the submission of a completed application. Scholarship recipients receive an official notification of selection from the Biomedical Graduate Education office via of email – please follow the instructions carefully to complete the process.
Please contact the Program Manager, Karen Brotherton, MS with questions – kmb24@georgetown.edu
Biomedical Graduate Education Merit-based tuition scholarships: Available for students enrolled in our biomedical graduate programs.
Federal Academic Alliance Scholarship: Available for students enrolled in our biomedical graduate programs who employed by the federal government.
* Or 3 years plus a 1-year MS degree for international students on a case by case basis. We highly encourage students with international credentials to have their transcripts evaluated by WES (new window) (new window) or another NACES (new window) (new window) credential evaluation service. For WES evaluation, please type in "Georgetown University" for the institution/company. For School/Division, select "Biomedical Graduate Education" as the recipient.
Tuition and Fees
Tuition and fees information can be found on the Biomedical Graduate Education website.
Tuition & Fees
Merit-Based Scholarship
Merit-based tuition scholarships are available for students enrolled in our biomedical graduate programs.
Tuition Scholarship
Admissions FAQ
Go to the BGE Admissions FAQ page for additional admission and application information.
Admissions FAQ
Additional Information
Transcripts
Transcripts are required from every institution you have earned credits and grades, including both degree and non-degree coursework. This allows the admissions committee to have a more complete picture of your academic preparation for graduate study.
You must upload electronic or scanned copies of your transcripts (as detailed below) into the application portal for review by the admissions committee; do not order official transcripts to be sent directly to us from your institution(s) until you receive an official offer of admission.
An acceptable transcript upload is a copy of an official transcript produced by the institution. This includes:
Scanned copies of paper transcripts issued by the institution.
Electronic transcripts issued by the institution (not a download from your institution's web portal).
Transcript formats we do not accept include the following:
We do not accept screenshots or photos.
We do not accept downloads of the "student's view" from your institution's website.
Samples of Acceptable vs. Unacceptable Transcripts for Applications Submission: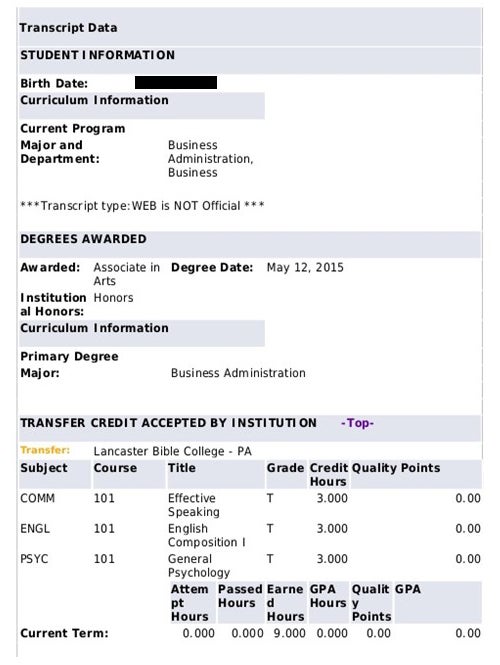 For Transcripts Not in English:
These documents must be accompanied by an English language version provided by the academic institution. If your institution does not provide English language copies, applicants are responsible for providing a certified or notarized translation along with a copy of the original transcripts. Applicants may upload an evaluation from a credential evaluation service. This must include course and grade information. If not included in the evaluation, the transcript from the institution must be included as well. Both the evaluation and original transcript should be submitted in the application as one document.
NOTE: Applicants who are offered admission will be required at that time to submit official transcripts for verification prior to enrolling.
For additional questions, please visit Admissions FAQ.
TOEFL/IELTS Examination
TOEFL: Georgetown University Code is 5244. The minimum TOEFL score for admission is 80 (Internet-based test) and 550 (paper test).
IELTS: Select "Georgetown University Graduate School of Arts and Sciences." The minimum IELTS score for admission is 7.0.
All applicants are required to demonstrate a level of proficiency in the English language sufficient to meet the admission requirement of the Graduate School of Arts and Sciences. Proficiency can be demonstrated by the receipt of a bachelor's or advanced degree from an accredited institution of higher education in the United States or from a university where English is the primary language of instruction (please note that applicants receiving degrees at universities in U.S. territories, such as Puerto Rico, are required to submit the TOEFL or IELTS unless the primary language of instruction at the institution is English).
InitialView
International applicants are strongly encouraged to participate in a third-party, unscripted interview with a company such as InitialView. While an interview is not required, it can help strengthen a prospective student's application. Interviews do not replace the TOEFL or IELTS; TOEFL or IELTS score submission is required. Fluency in English is imperative for your success in the MS in Biotechnology Program.