Advocating for Change: A Student's Mission to Create Alternative Food Sources
Posted in General Page News Story
Recently, we had the pleasure of speaking with Panagiotis (Panos), a first-term student on the BioBusiness track in the Biotechnology Program at Georgetown University. His background is quite extensive. Kostopoulos holds a degree in chemical engineering from the National Technical Academy of Athens Greece; has worked on vegan omega-3 fatty acids, and has extensive experience in product management and business development. These experiences have shaped his perspective on cellular agriculture, but his interest in alternative food sources was sparked in his early twenties when he realized that he was not feeling his best with a diet that contained meat. Kostopoulos began questioning the food system, his own diet decisions, and the ethics of the food industry at this time which led him to researching organic materials and becoming more involved in the alternative protein industry, food biotechnology, and entrepreneurship.
Prior to beginning his journey through the Georgetown Biotechnology Program, Panos started the initial development of a fermentation company and also co-founded and directed a non-profit organization in the alternative protein industry called Cellular Agriculture Greece. Here, he and the team focused on spreading awareness and education about cellular agriculture research. He describes this initiative as "bridging the gap between academia and industry" and the goal was to spread understanding about alternative food sources and create opportunities for growth within the field.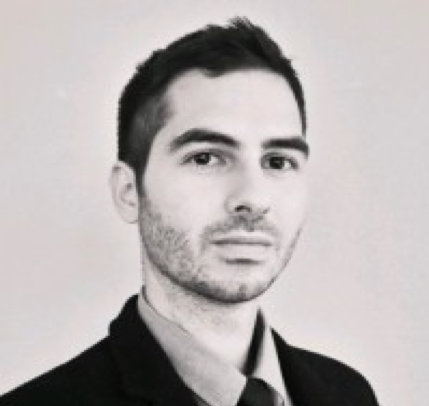 With his background, it is no surprise that in Panos' first semester he enrolled in Food Biotechnology – a class taught by Dr. Ivica Labuda (Professor and Biotechnology Program Director). As a whole, the class is focused on many areas of the food industry such as FDA regulations, taste and chemical senses, nutrigenomics, and nutraceuticals. Panos further explains that the course is an interesting opportunity to be exposed to different food-related biotechnology techniques within the span of the semester. This class has also provided insight into the food industry as well as potential ideas for future implementations.
Discovering the Georgetown University Biotechnology program enabled Panos to further his understanding of the industry while still working on entrepreneurship skills. In the Entrepreneurial Biotechnology class, also led by Dr. Labuda, he and his team are developing a company focused on creating an alternative meat option using alternative proteins and cellular proteins. This opportunity is a great way of learning about the process of creating a company as students work on professional business plans, elevator pitches, investment pitches, and financial plans. Alumni and industry leaders are also a large part of this experience as, throughout the course, students prepare presentations covering topics such as start-ups and how to succeed.
The broad alumni network and their presence throughout the Biotechnology program is also a large part of Panos' reason for choosing Georgetown. There is a lot to learn from their experiences and guidance about the program, the job search, and beginning and developing a professional career. As many of the professors have worked or are currently working in industry, Panos says the program provided him with a great opportunity to expand his knowledge about different areas of biotechnology such as the "pain points" of a company, patterns and trends, value propositions, and relationship building. He describes this as seeing the whole path of industry.
The conversation with Panos was an interesting opportunity to learn more about alternative proteins, his journey in food biotechnology, entrepreneurship, and made us think more about sustainability in the food industry. After graduation he would like to focus on cellular agriculture and how the industry can improve production lines and reduce animal suffering. Panos also has an interest in exploring the use of artificial intelligence and machine learning to improve data collection and synthesis. We are looking forward to hearing about Panos' future endeavors and the companies that he would like to develop.
Written by: Maura Sackett and Priya Shah (MS candidates, 2022)
Contributions from: Panagiotis Kostopoulos (MS candidate, 2022)
Edits by: Kyle A. DiVito, PhD