Remote Capstone Internships in the Georgetown M.S in Biotechnology Program
Posted in Beyond-the-degree course News Story tracks
The COVID-19 pandemic upended everyone's lives, and the students in the MS Biotechnology program were no exceptions. One of the biggest challenges for the students was completing their capstone internship entirely online. (Read more about the capstone internships here). Although with a semester of experience under their belts, Professor Khuyen Mai and Dr. Ivica Labuda were equipped to help students find remote internship opportunities, the student still had to face new challenges. They had to navigate learning real-life skills over Zoom, virtually connecting with mentors, and being restricted to online collaborations with members of their teams. Despite such difficulties, our fellow classmates were able to maneuver these circumstances to their advantage.
Meet Jenny, an intern at the US International Trade Commissions: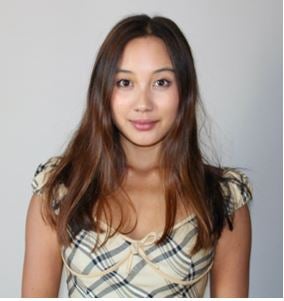 Jenny Lu is a UK-born, west-coast residence, who grew up surrounded by all-things biotechnology. Her love for science and her interests in policy bloomed at the Science, Technology, and International Relations program at Georgetown University, where she studied international policies addressing advanced technologies.
Currently, Jenny works as a policy and data analyst at the US International Trade Commissions (USITC), specializing in opium and non-narcotic analgesics. On a day-to-day basis, she compares domestic and international trade data and policy timelines, keeps up with policy updates from external government agencies (ex. DEA), and studies recent lawsuits on opium and non-narcotic analgesics and their effects on domestic and international policies. The U.S. opioid crisis was a topic that caught Jenny's interests even before she began the MS in Biotechnology program and being able to deeply dive into this topic has been the highlight of her capstone internship.
In Jenny's case, the remoteness of her internship worked in her favor. Namely, she wasn't restricted to the rigid schedule of a typical intern, instead she was able to work by her own schedule, reading and writing when she felt the most productive. Additionally, despite the time difference between them, Jenny was able to enjoy her time as a remote intern, while "never losing the one-on-one touch" with her internship mentor, Dr. Jennifer Catalano.
Jenny has learned much from her time at USITC and hopes to work for a start-up after graduation. (In fact, she already works for a drone-delivery start-up, called Skycart!) She is excited to bring the skills she gained from Dr. Catalano's mentorship and her experience at USITC to the smaller, "innovative, and solutions-based" world of start-ups. Further down the road, Jenny also hopes to put her writing and policy analysis skills to use by working for venture capital companies and/or contributing to journalism addressing tech policies.
Meet Zachary Berman, an intern at Children's Hospital: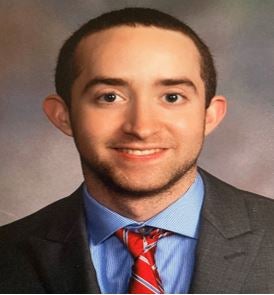 Originally from Yardley, Pennsylvania, Zach received his Bachelor of Science in Biotechnology from Syracuse University. During his time there, Zach developed his wet lab skills from various undergraduate courses. He honed these skills by working in the Pathology and the Bioengineering Departments at the University of Pennsylvania Presbyterian Hospital. After graduating in 2019, he continued in the lab, serving as a Research Technician II for Children's Hospital of Philadelphia, working in the Center for Applied Genomics.
He joined the Biotechnology Program at Georgetown University to immerse himself in the biotechnology industry and learn about opportunities outside of the laboratory. With remote learning, Zach opted to stay in Philadelphia and keep his full-time position while attending the program. This prompted Zach to further explore his role within Children's Hospital of Philadelphia and incorporate a new project, that he did not have prior exposure to, into his capstone experience. Zach dedicated time outside of his work hours to his capstone project and developed an expertise in bisulfite conversation.
Bisulfite conversation is the "gold standard" method for DNA methylation studies. Zach finds himself enthralled conducting long and tedious preparations for each sample, noting how important and expensive each test is to perform. Zach enjoys being able to partake in more of the nitty-gritty science, contributing to the research involved in oncology, Alzheimer's, and eventually COVID-19 treatments.
One piece of advice Zach would like to share is to never be afraid to ask for opportunities as anything is possible. When asking his current supervisor about potential options for the capstone requirement, he was introduced to a new project that his supervisor was embarking on and this project was one that Zach ultimately found to be very interesting. Thus, being open to new possibilities and taking every opportunity to learn something new and become involved can certainly pay off in the end.
Zach has remained in the laboratory, something that he has found himself to be quite adept at and has enjoyed this routine. His experience has allowed him to live the life of a scientist, working and participating in innovative research. However, as Zach continues to reflect on his time with the program, knowing his lab skills and where he can take and apply them, he also looks forward to exploring other opportunities that are outside the lab.
Meet Felicia, an intern at Georgetown University's Technology Transfer Office: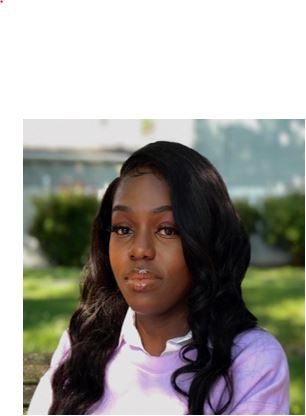 Born and raised in Maryland, fall 2020 student Felicia Ogunsola received her Bachelor of Science in Biology from Lincoln University, a Historically Black University located in Lincoln, Pennsylvania. Felicia primarily gained wet lab research experience as an undergraduate, and she realized that she wanted to stray away from the lab and pivot into business-related roles. Her plans post-graduation in May 2020 were cancelled due to the pandemic, which led her to the MS Biotechnology Program at Georgetown University. She appreciated the wide variety of tracks, which would provide her with the business acumen that she would need for her first professional role.
Currently, Felicia is a remote intern with Georgetown University's Office of Technology Transfer and is mentored by Zeinab Abouissa, the Senior Licensing Manager. Felicia came across this opportunity from Professor Mai, who referred her to Zeinab.
While in this internship, Felicia learned about many inventions; more specifically, she came to understand the reasoning behind the invention as well as the unmet needs that these inventions fill in various industries. To prepare for this internship, Felicia read many documents about the basics of intellectual property (IP), patent law, duties of a technology transfer agent, and background and market research related to the inventions. Felicia's duties vary every day, but overall her internship is primarily focused on finding potential licensees for inventions, conducting competitive analyses, and researching ways that inventors can pitch their inventions to potential licensees. In addition to her regular duties, Felicia has attended patent award ceremonies and is in the process of completing course certifications recommended by her mentor. Felicia has enjoyed her time in this internship learning about the real world applications of these inventions, how they improve people's lives, and also loves that she contributes to meeting the unmet needs that these inventions fill.
When asked to give advice to students applying for internships, Felicia recommends seeking a strong, supportive supervisor who is invested in taking on a mentorship role and promotes professional and personal growth throughout the internship. Felicia has appreciated Zeinab as a mentor; even though she is extremely busy with her everyday tasks, Zeinab always makes sure to check in with Felicia and send out as much information about professional development opportunities that Felicia can participate in. Additionally, Felicia recommends that students remain open-minded during the job and internship search. Many fields in the biotechnology industry overlap, and it is possible to learn cross-functional concepts while in the role.
Felicia's internship in technology transfer has overlapped in many career fields, such as intellectual property and marketing applications in the biotechnology industry. As a result, this internship serves as the perfect segue to a broad number of career opportunities. Lately, Felicia has been interested in pursuing regulatory affairs roles.
As the Spring semester comes to a close, we hope that the Class of 2021 will take the time to collectively reflect on their internship experiences: the remoteness, their accomplishments, their failures and their successes. As Georgetown University plans for in-person instruction for the upcoming Fall 2021 semester, we look forward to hearing about future student internship experiences, whether they are virtual or in-person.
---
Written by: Neil Ichiro Laruan, Shauna Louise Leonardo, and Lina Oh
Contributions by: Jenny Lu, Zachary Berman, and Felicia Ogunsola
Edits by: Kyle A. DiVito, PhD