From Student to Scientist
Posted in Beyond-the-degree News Story
As a graduate of the 2014 Georgetown Masters in Biotechnology program, Tosin Akinyinka sat down with us to provide his insight into life both inside and outside of his experience in the Biotechnology Program. After launching into the biotech industry from the BioScience track and experience interning at Georgetown University's Lombardi Cancer Center, Tosin obtained his first position at Regeneron Pharmaceuticals, Inc. (New York) where he worked on the development of immunoassays. He currently holds a position as Scientist at AstraZeneca (Maryland) and is focused on manufacturing, science, and technology. This position involves working on commercial support for one of the company's products which allows Tosin to apply both his scientific and technical expertise.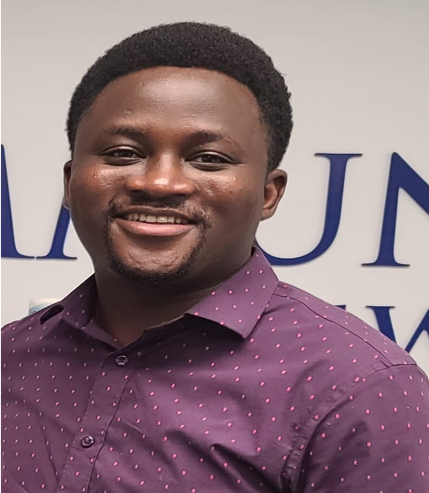 The Georgetown University Masters in Biotechnology program prepared Tosin well for the challenges he has faced working in the industry. The courses, in particular Fermentation and Bioprocessing, gave Tosin the experience necessary to speak confidently during interviews as well as to apply this knowledge while working in the field. This course provided a familiarity with the subject matter which continues to impress both colleagues and collaborators and has provided him with an opportunity to quickly advance during his journey and become a successful scientist. He also advises current and prospective students to think about participating in some of the BioBusiness classes in order to start building a solid foundational understanding of the business side of biotechnology.
Reflecting further on his time at Georgetown in the Biotechnology Program, Tosin has stated that he did not anticipate the benefit of having a strong business footing. He explained during the interview that the knowledge of basic business principles is critical in forming a solid understanding of the biotechnology industry and will be a critical component for job advancement. As such, one of Tosin's future goals is to expand his focus and see how his scientific expertise can be better translated into business. He believes that a foundational business knowledge is critical because it determines how companies strategize and set themselves up for success. With the knowledge of business, he will be able to take his technical skills and advance his career to hold more senior management positions and help the company make important forward-looking decisions.
When asked about the future of the biotechnology industry, Tosin spoke highly of growth and development within the sector, while also describing his anticipation of future challenges. He predicts that biopharmaceutical companies will soon be facing increasing pressure from the general public concerning decisions as to how funds and resources will be allocated. His recommendation to students as they enter into the quickly evolving industry is to always think outside of the box and to stay relevant. He believes that as long as new skill sets are being developed and mastered, companies will be more interested in offering a position.
Other pieces of advice Tosin offered to current and future students in the Program were to utilize the resources available at the Georgetown Career Center in order to develop a resume and LinkedIn page that fully highlights the student's skillset. Another foundational aspect for students entering the biotechnology sector is to network and build relationships with their fellow classmates, and to then prioritize one's own career goals and interests. As such, Tosin urges students to take advantage of the opportunities provided during the program and the Capstone internship in order to both learn and grow.
Outside of biotechnology and his role at AstraZeneca, Tosin enjoys maintaining his work-life balance by watching sports such as soccer and football and participating in activities with his daughter. He is also currently pursuing another advanced degree to further his engagement in the business side of science and technology.
We thank Tosin for his time and perspectives on the Biotechnology Industry and wish him the best of luck with his future endeavors!
Stay tuned to the MS in Biotechnology homepage for the latest in program news and events. https://biotechnology.georgetown.edu/
---
Authors: Allyson Donberger and Maura Sackett
Contributors: Tosin Akinyinka, MS
Edits by: Kyle A. DiVito, PhD