Georgetown University's Contribution to Innovation
Posted in Beyond-the-degree General Page News Story | Tagged Georgetown Biotechnology
Universities, such as Georgetown University, play an important role in promoting innovation in science and technology1. Importantly, they prepare students to carry those ideas forward and transform them into potential business opportunities. Thus, the culture of the university is extremely important to facilitate innovation and promote scientific advancement both nationally and internationally1.
Many universities have established offices that help in the transfer and licensing of technologies developed by faculty, staff, and students to industry. Here, at Georgetown University, we have the Office of Technology Commercialization (OTC) whose role is to establish beneficial relationships with individuals and organizations outside the university2. More precisely, this office manages invention disclosures, patenting and licensing activities, research collaboration agreements, and material transfer agreements, among others2. Importantly, for the Master in Biotechnology program and those following the entrepreneurship path, OTC can assist Georgetown entrepreneurs in starting their own companies2.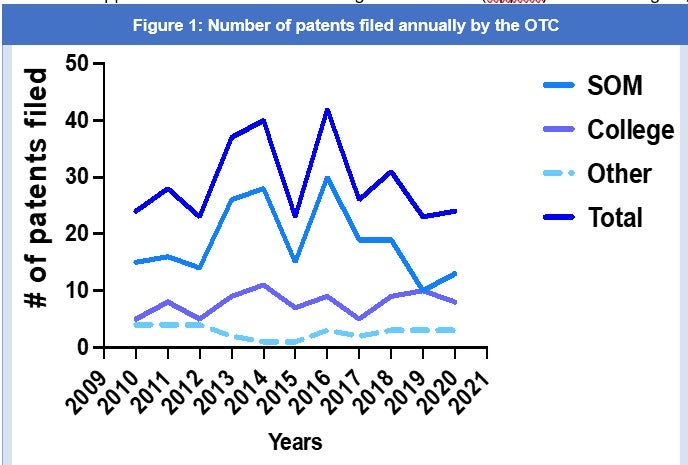 According to the United States Patent and Trademark Office (USPTO) webpage, under the USPTO Patent Application Full-Text and Image Database (AppFT) search engine, Georgetown University is the assignee or applicant of 411 patents since 20013. For purposes of this article, we looked at and analyzed patents filed between 2010 and 2020. From 2010 to 2020, the OTC filed approximately 321 patent applications, an average of 32 patents per year3, with 2013, 2014, and 2016 being the most prolific patent filing years (Figure 1). Almost 64% of all the patents filed between 2010 and 2020 came from the School of Medicine (SOM); 28% from the College; and 10% from the School of Nursing and Health Studies and Georgetown Law Center, and faculty collaborations between the College and School of Medicine. Separating the number of patents filed by academic department (Figure 2), it was found that 17.02% of patents filed came exclusively from the Department of Oncology, 10.33% from the Department of Computer Sciences, and 9.12% from the Department of Chemistry, and 26.14% multi-disciplinary collaborations.
In the following sections we sought to highlight three patent applications that were filed by Georgetown University which have the potential to impact a broad patient population with various illnesses ranging from cancer to neurodegeneration. For example, the pending application US 20210048431 A1 relates to using an ultrasensitive assay to assess mild, moderate, or severe traumatic brain injury (TBI) in a subject, thus having the potential to improve clinical care in individuals who have experienced TBI, such as military personnel. In another filing, the granted application US 20210285973 A1 aims to determine whether an individual has an increased risk of suffering from memory impairment. Here, metabolites in plasma samples from a patient are compared with an established control. A change in the value of the subject's metabolite profile, over control, might indicate that the subject has an increased risk of suffering from memory impairment. This invention has the potential to help individuals plan accordingly for their future care.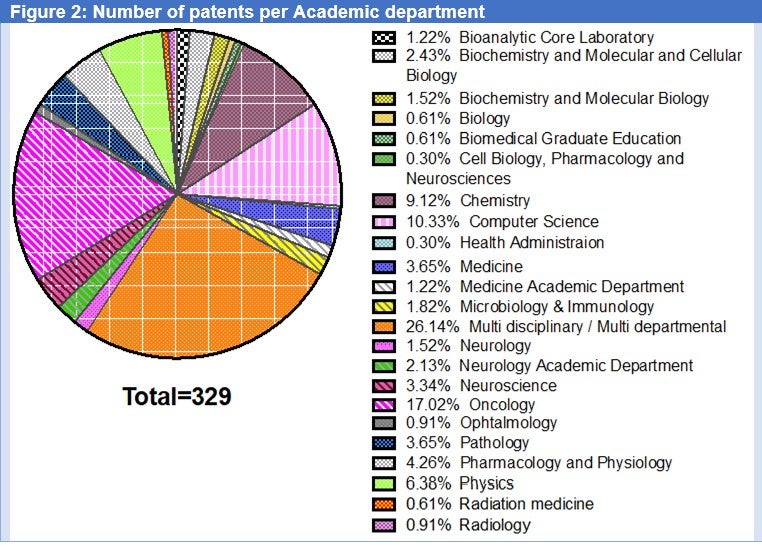 Finally, the provisional application US 20190242907 A1 aims to assess the presence, progression, and efficacy of treatment of liver fibrosis in a subject by quantitatively measuring di-sialylated and mono-sialylated O-glycoforms of a peptide fragment of hemopexin in samples obtained from the patient. This invention has the potential to aid in clinical decisions on the patient.
Each of these innovations take advantage of biomarkers to accurately diagnose, monitor, and/or treat disorders. We are currently seeing a trend in using biomarkers as a means of matching patients with targeted therapies. In addition, biopharmaceutical companies and researchers are relying on biomarkers to assess the efficacy, safety, and mechanism of action of drugs to make "go/no-go" decisions in the pipeline of drug development. This modern approach to clinical science has the potential to speed up the process of drug development and reduce ineffective treatment outcomes. Whether the disease is cancer, a neurodegenerative disorder, or chronic illness, innovations, such as those coming from Georgetown University, have the potential to improve patient outcome and begin moving toward truly individualizing patient care.
Written by: Maria Fe Lanfranco Gallofre, PhD (BioBusiness Certificate Candidate)
Edits by: Kyle A. DiVito, PhD
Published: September 2022
References:
Trends in the Innovation Ecosystem: Can Past Successes Help Inform Future Strategies? (2013) https://nap.nationalacademies.org/read/18509/chapter/5#23
Office of Technology Commercialization. https://otc.georgetown.edu/
United States Patent and Trademark Office: https://www.uspto.gov/