A Chat with a Grad
Posted in Beyond-the-degree News Story
We recently had the great opportunity to catch up with Tierney Sovic, a 2020 graduate of the MS in Biotechnology Program. She shared her experiences in the Program and her unique perspective about the diverse opportunities available in modern biotechnology. Read more about Tierney's experience below.
GU Biotech: Hi Tierney! It's great to chat with you again! Thank you for agreeing to speak with us by email and for sharing your thoughts on the MS in Biotechnology Program at Georgetown. For some perspective, I thought that maybe we can use this time to explore your background and discuss your experiences both before and while you were in the Biotechnology Program here at Georgetown. To start us off, maybe you can discuss your background and experience as an undergraduate, before you came to Georgetown?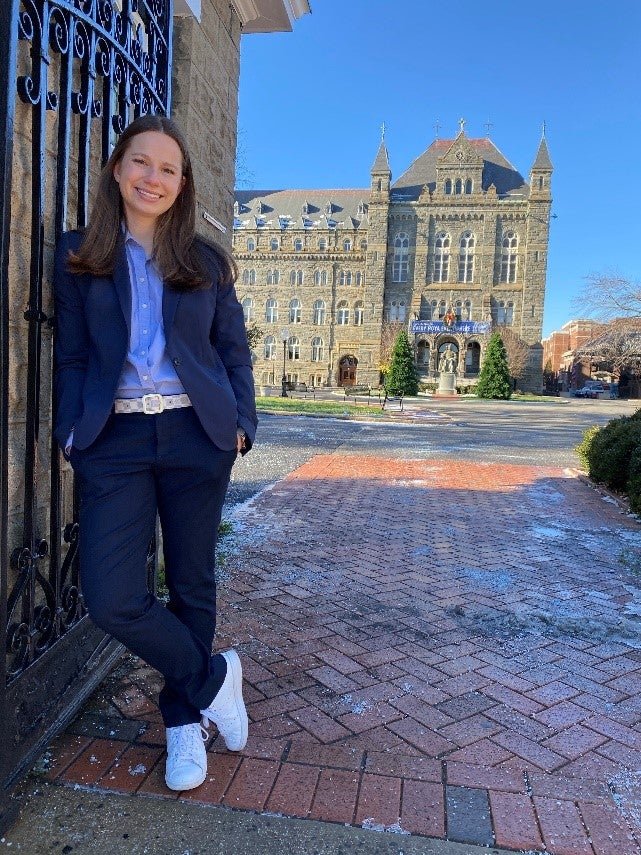 Tierney: Sure thing, my pleasure! During my undergraduate years at Syracuse University, I was on track to pursue a science degree, but I also had interests in business, entrepreneurship, and policy studies. It wasn't until my sophomore year that I discovered the biotechnology major which centered around core biology and chemistry classes but also incorporated other interests that I had. I worked as an undergraduate research assistant studying reproductive evolution in fruit flies and gained wet-lab, hands-on research experience. During my senior year of undergrad, I sought out opportunities to acquire business and entrepreneurial experience. I was selected to participate in the Winston Fisher Seminar in New York City. I won the business plan competition with an idea I came up with through developing a comprehensive business proposal: a drug testing kit, modeled after harm-reduction strategies, that detects opioid impurities in drug substances. This experience allowed me to blend my biotechnology coursework knowledge with my passions for business, corporate development, and problem solving. I graduated from Syracuse University with a B.S. in Biotechnology and continued my education pursuing an M.S. in Biotechnology from Georgetown University.
GU Biotech: What made you decide to apply and ultimately pursue a Master's in Biotechnology at Georgetown?
Tierney: One of the driving factors that motivated me to continue my biotechnology studies at Georgetown is the unique balance of the faculty and staff. It is comprised of Georgetown-affiliated, academic professors as well as adjunct faculty professors who work in pharmaceutical and biotechnology companies, government institutions, and consulting firms. The course requirements provided students with in-depth, biotechnological knowledge from the academic professors and insight into leveraging our specialized degree in various biotechnology careers from the adjunct faculty professors.
GU Biotech: Clearly the pandemic was not an anticipated component to your experience in the Biotech Program, so how did you personally pivot into remote learning and what did you do to make it less stressful and still a rewarding experience overall?
Tierney: I was only three months into my graduate career when the COVID-19 pandemic transitioned my education to a virtual format. The Georgetown Biotechnology Program proactively worked on implementing opportunities to maintain virtual student involvement by offering weekly graduate hours, writing initiatives to strengthen communication skills, and networking lectures to increase relationship building within the STEM community. I spent my summer writing and publishing articles for the Georgetown Biotechnology website that illuminated the importance of biotechnology through topics related to campus research, alumni and faculty spotlights, and networking advice specialized for STEM majors. During the summer, I also began my Graduate Capstone Internship with Sarah Tanksley, an adjunct professor who teaches FDA Case Studies and is the President and CEO of Tanksley Consulting Group. I worked as a consultant and analyzed government regulatory reports, performed generic and brand-name pharmaceutical market research, and investigated the occurrence of Nitrosamine impurities in medications. During my internship, I independently identified a manufacturing problem and constructed a presentation that provided innovative solutions through FDA regulatory processes to combat current drug development obstacles. The advantage of the Georgetown Biotechnology Capstone Internship requirement is that the students are equipped with real-world experience along with the coursework knowledge gained through the advanced biotechnology degree.
GU Biotech: Now that you have graduated and are employed, the world is your oyster (as they say)! I was wondering if you could reflect on living in the DC-metro area; and also provide some perspective for current or prospective students interested in pursuing a master's in biotechnology?
Tierney: During my final semester as a graduate student, I realized there are endless possibilities available to students that help incorporate various industry interests within the biotechnology sector. Living in Washington, D.C. intensified my passions for government and public affairs and motivated me to pursue a leadership experience as a public servant. I was honored to be elected by my colleagues as President of the Georgetown University Biotechnology Executive Board. I was the primary representative between the students and faculty where I focused on conflict negotiation and hosted interactive events aimed to increase engagement amongst the students to combat the virtual, isolated environment.
The beauty of a degree in biotechnology at Georgetown is the versatility with which the students are equipped. What I've learned throughout my biotechnology education is that you only get out of it what you put into it. My advice to current students is to use this time to develop professional relationships within the Georgetown community and to become involved with organizations on campus. The Georgetown Biotechnology Program provides many opportunities for students to venture beyond the classroom requirements by stepping outside of one's comfort zone and ultimately gaining specialized experience to jumpstart a professional career. I am currently working as an Account Executive at LAZAR, a Finn Partners Company in New York City.
GU Biotech: Tierney, congratulations on earning your degree and also on landing your position! As one of our many success stories it has been a pleasure to speak with you again. We wish you the very best with your future endeavors and, as always, please keep in touch and let us know what great things you are up to!
Tierney: Thank you again for giving me this opportunity to connect with the Georgetown University Master's in Biotechnology community! It has been a pleasure staying close with the Program throughout my time as a student and alumni. This Program has provided me with many professional and personal development opportunities, and I would not be where I am today if it wasn't for the constant support from the faculty, staff, and alumni. I want to wish all the current students the best of luck with the start of their exciting journey. Hoya Saxa!