Georgetown Biotechnology Students Network at Maryland's Annual Bio Innovation Conference
Posted in General Page News Story
Students and faculty from Georgetown University's MS in Biotechnology Program attended the Maryland Life Sciences Bio Innovation Conference held on October 4th, 2021. The Maryland Life Sciences Bio Innovation Conference is a two-day event hosted by a division within the Maryland Tech Council. This annual conference gathers top life science professionals in industry and academia from the DC-Maryland area, including leaders from global brands, scientists, venture capitalists, and startups.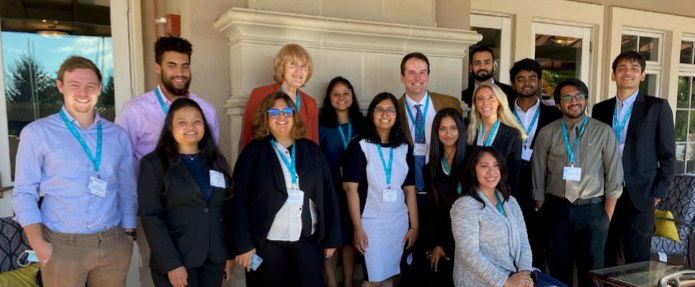 The faculty and students in the Biotechnology Program were encouraged to attend the conference to continue engaging with the greater biotechnology community and to stay updated on emerging biomedical technologies. Throughout the conference, there were multiple opportunities to hear from leaders in difference sectors of the biotechnology sphere – in R&D, marketing, and even the Maryland Department of Commerce. Many of the sessions addressed the role of COVID-19 in bio-innovation. Biotechnology students were able to hear about the impact of a pandemic on biotech start-ups, real time safety monitoring used in clinical trials to determine appropriate booster-shot schedules for the COVID-19 vaccines, and how neurological and psychological effects were taken into consideration in COVID-19 vaccine development.
The format of the first day of the conference was programmed to best foster an environment for networking by interweaving small, informal breaks in between formal sessions. The students in the Biotechnology Program were able to take advantage of this opportunity and were able to interact with the speakers, presenters, and other attendees during these breaks. "I really enjoyed talking to the presenters and having the opportunity to get a general understanding of the trends in the biotechnology space," commented Yanah Hossain, "I also appreciated the pieces of advice that the speakers shared with us in formal and informal settings."
The MS in Biotechnology Program will continue to engage with the local biotechnology community and have learning and networking opportunities in the upcoming 2022 Maryland Life Sciences Bio Innovation Conference.
---
Author: Lina Oh
Contributor: Yanah Hossain
Edits by: Kyle A. DiVito, PhD