Peter Frantz (2005)
Posted in Beyond-the-degree | Tagged alumni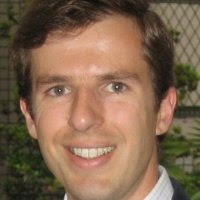 Senior Director, Finance, Amarex Clinical Research, LLC
When I enrolled into the Georgetown Biotechnology program, my goal was to be able to transition from a career focused on the technical application of my undergrad science degree to a business application. After graduating, I was able to find a job in business development with a small biotech company.
My initial role focused on seeking licensing opportunities, but rapidly grew.
Because of my internship and the courses taken during the program, management of our Intellectual Property portfolio was added to my responsibilities.
I also became responsible for day-to-day management of our lead cancer product and CNS product, which were each in various stages of clinical development. After leaving the biotech company I joined the company I currently work for, Amarex Clinical Research, which is a contract research organization (CRO).
My primary responsibilities as Senior Director of Finance include: preparing proposals and budgets in response to client RFPs, negotiating contracts, overseeing our accounting staff and company finances. Also during the time I have been with my current employer, I earned an Executive MBA degree through the McDonough School of Business at Georgetown. I certainly credit the biotechnology degree program with helping me switch career tracks, and starting me on the course to my current role.