Sapna Padmanabhan (2009)
Posted in Beyond-the-degree | Tagged alumni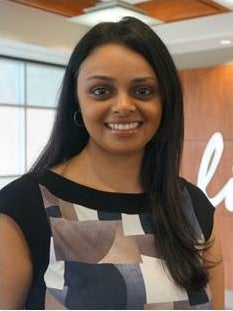 Global Market Development Manager, Thermo Fisher Scientific
In the spring of 2007, I graduated from UCLA with a Bachelor of Science Degree in Molecular, Cell, Developmental Biology. While a majority of my peers were pre-med, pre-dental, or on a path to a career in academia, I felt that I wanted to use my knowledge and interest in the life sciences in a different way. Unfortunately, most undergraduate science programs, including mine, were geared towards preparing students for healthcare or research-based careers, so I wasn't fully aware of what my other options were. Luckily, I found Georgetown's Biotechnology Master's Program, which appeared to be the perfect balance between furthering my core science knowledge and gaining wide exposure to the biotechnology industry. And it was.
Joining the program proved to be one of the best decisions I ever made. I learned so much about the business side of the biotech industry, including the new product commercialization process, legal and financial aspects of biotech start-ups, and most importantly, how different functions within a biotech company can be seamlessly integrated to allow the company to thrive.
One of my favorite courses in the program was Entrepreneurial Biotechnology, which allowed us to work in teams to develop business plans for introducing a new biological product into the market, from inception through implementation.
I focused on the sales/marketing component of the business plan and learned that I enjoy being able to shape a business model to fit the segments of customers we were targeting.
After finishing the program in 2009, I moved back to California and began my career at Life Technologies (now Thermo Fisher Scientific) as an Account Manager. That role allowed me to utilize my technical knowledge and understanding of customer segmentation to develop relationships with customers and help sell a portfolio of life science products. I found the role rewarding not only because I was able to help solve customers' problems and find them the best products that fit their research needs, but also because I was able to see the direct impact my role had on customer satisfaction, revenue, and overall growth and success of the company. After a few years in this role, I wanted to take my knowledge of the products and customer needs into a marketing role, where I could directly impact the information a customer sees about a product across various channels. I am now a Global Market Development Manager for Thermo Fisher Scientific, covering a $55M portfolio of molecular cloning reagents and kits. I work to design and implement multi-channel marketing programs that resonate with customers across different global regions. I thoroughly enjoy my career and attribute much of my success to Georgetown's Biotechnology program, which allowed me to explore the different facets of the biotech industry and provided me with the foundation to excel in my professional endeavors.