Keeping Up With Current BioScience Trends in the Biotechnology Industry
Posted in Beyond-the-degree General Page News Story Uncategorized
---
Georgetown University's Master of Science (MS) in Biotechnology Program located within the Washington Metropolitan Area provides an abundance of opportunities to its students. As one of six available Tracks within the Program, the BioScience Track distinguishes itself from other Tracks through its several science courses that often have relevant laboratory components. These courses are designed to prepare students for advanced degrees, such as a Doctor of Philosophy (PhD), or laboratory-related roles in the biotechnology industry. In addition to the science classes, there are also business and regulatory course requirements which augment the BioScience Track and supply its students with a well-rounded curriculum.
A key aspect of the MS Biotechnology Program is its adjunct faculty members who hold various leadership positions and have years of experience in their respective fields. In the classroom, they draw from their previous and current involvements to guide and advise the students.
Immunology's Applications Across the Industry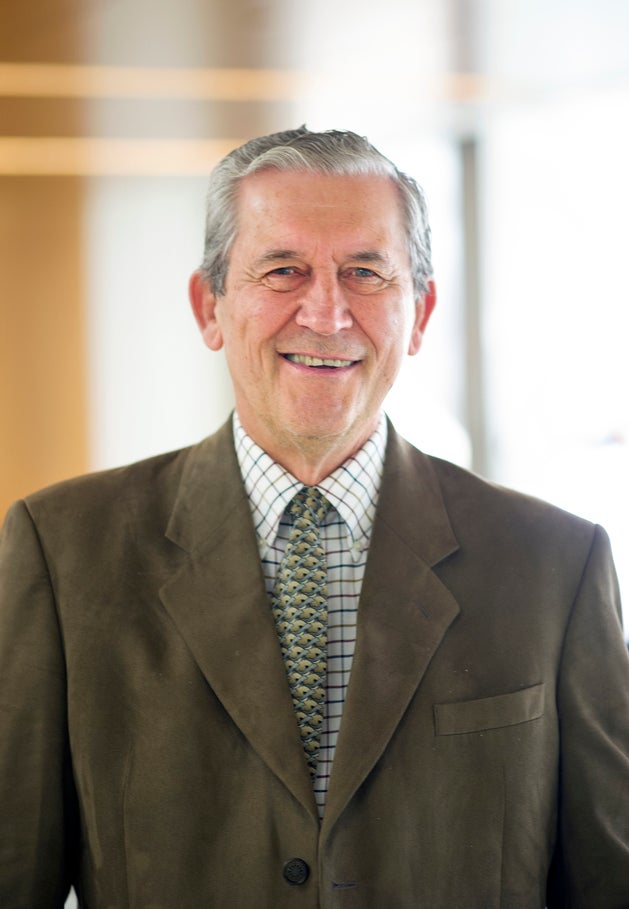 Edward Kisailus, PhD earned his Bachelor of Science in Biology from King's College and his MS in Biology at Seton Hall University. While there, Dr. Kisailus discovered his love for teaching students while working as a teaching assistant. This experience inspired him to acquire a PhD in Immunochemistry at the Department of Microbiology and Immunology at Columbia University. After completing a two-year postdoctoral fellowship, Dr. Kisailus applied for a teaching position at Canisius College; he has taught biology there for the last 40 years. His research, which primarily takes place at the Roswell Park Cancer Center, involves working with lectins — carbohydrate-binding proteins in human tissue and tumors. 
Working at Canisius College has opened up a variety of personal and professional opportunities outside of the classroom, which is how Dr. Kisailus met Dr. Chirikjian (founding Director of the Biotechnology Program at GUMC). Both individuals kept in touch and collaborated on various projects throughout the years. After hearing Dr. Kisailus present at an immunology conference, Dr. Chirikjian asked him about his interest in teaching BCHB 525: Immunobiotechnology and, as they say, the rest is history and Dr. Kisailus has taught BCHB 525 every spring for over 20 years. At last year's graduation ceremony, he was recognized by the Biotechnology Program for his service and dedication.
The BCHB 525 curriculum contains an overview of the immune system and how it is utilized in both the biotechnology industry and in assays such as the western blot. In this course, Dr. Kisailus also reviews the history and science behind manufacturing vaccines. His experience working under Elvin Kabat, PhD, the father of quantitative immunochemistry, provides Dr. Kisailus significant and relevant knowledge on antibody and antigen interactions that he is excited to share with the class. Recently, Dr. Kisailus has included concepts in the curriculum such as immune checkpoint inhibitors and COVID-19. Dr. Kisailus appreciates teaching this course because it allows him to remain up-to-date on the continuous advancements that occur in immunology research.
In Dr. Kisailus' perspective, one main advantage to joining the MS Biotechnology Program is the endless possibilities for students to collaborate, grow, and learn alongside one another. In his experience, the students at Georgetown are inquisitive, curious and engaging; these qualities keep Dr. Kisailus on his toes and allow him to open up in the classroom.
When asked about the traits of students whom become successful in the biotechnology industry, Dr. Kisailus highly recommends that students do not shy away from hard work and pursue their passions, no matter the obstacles they may face. Dr. Kisailus references his own life as an example; ever since he started his MS at Seton Hall University, there has never been a year where he was not doing some form of teaching. By continuously teaching, Dr. Kisailus honed his skills to work towards his goal of becoming and then later improving as a professor. While in the Program, current students should take advantage of the multiple resources available to determine and refine their goals and objectives.
Partnerships in Academia and in the Biotechnology Industry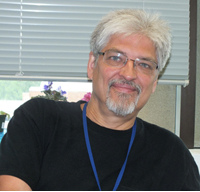 In addition to his role at the NIH, Dr. Eiden works as an adjunct faculty member for the MS Biotechnology Program. His wife, Maribeth Eiden, PhD, previously taught a course on nuclear medicine for the Program and introduced Dr. Eiden to Dr. Jack Chirikjian. Doctor Chirikjian's vision of "opening the doors between the biotechnology industry and academia" inspired Dr. Eiden to teach as well.
BCHB 522: Drug Target and Drug Design reviews the history of pharmacology and therapeutics as well as the modern practice of drug design within the lens of pharmacology, biochemistry, and bioinformatics. This course allows for Dr. Eiden to stay well-informed on trends in current pharmacology research. In order to succeed in his class, Dr. Eiden recommends that students put as much effort as possible into fully understanding the lecture. He has noticed that students who truly engage with the course material are the ones who are most likely to succeed both in the course and beyond Georgetown when they enter in the workforce.
When asked to give advice to students seeking internships, Dr. Eiden recommended that students establish a contract with their mentor; both parties must have a clear understanding about the qualities of a successful internship and how the internship goals will be achieved. He also recommended that students speak to as many people as possible about potential internship opportunities as well as their experiences in the field.
One of Dr. Eiden's favorite parts of the MS Biotechnology Program is its supportive faculty and staff members. As an example, Dr. Eiden mentions Jim Hawkins, PhD, the current Program Director. In the past and in the present virtual semester, Dr. Hawkins upholds an open-door policy for students to seek support and ask for advice. Another aspect that Dr. Eiden enjoys is the valuable networking opportunities that the Program offers. Every year, Dr. Eiden has noticed that the current students always find ways to keep in touch with alumni. Reaching out to form connections has been emphasized during the COVID-19 pandemic; as everyone is more easily accessible via Zoom. Lastly, Dr. Eiden values the diversity of each cohort in the Program; it contains students of multiple backgrounds who can build their own paths within the biotechnology industry.
Concluding Thoughts
The MS Biotechnology Program's BioScience Track equips students with the necessary knowledge and tools required to work in academia or in healthcare-related positions. Additionally, those who are in the BioScience Track also assume roles in product development, laboratory management, and quality control or assurance. Students in this Track have the ability to choose from numerous careers due to the varied course load and flexible scheduling that provides each student the room for both personal and professional development.
Check out the MS Biotechnology website next month for articles on the Entrepreneurship Track faculty members, students, and the annual Pitch Presentation!
---
Written by: Shauna Louise Leonardo, MS Biotechnology Candidate
Contributions by: Edward Kisailus, PhD and Lee Eiden, PhD
Edits by: Kyle DiVito, PhD