Ross Chudnovskiy (2014)
Posted in Beyond-the-degree | Tagged alumni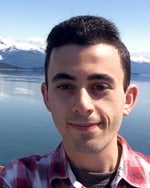 Scientist, Regeneron Pharmaceuticals
After graduating UC San Diego with a B.S. in Physiology and Neuroscience, I wasn't sure where I wanted my career path to lead. I took a couple of years to work in academia and while I found research fascinating, I quickly realized that a higher education was necessary to open more potential doors for my future. In researching the right program, I found Georgetown's M.S. Biotechnology program the perfect mix of business and science and instantly knew this was the path for me.
What I liked most about this program is that it took a real life approach to my education. I was able to learn the skills employers seek out which prepared me to get into the workforce as soon as I graduated.
Even while I was working on my degree at Georgetown, I wasn't sure what I wanted to do when I finished and I think that's OK. Keeping an open mind allowed me to explore the possibility of getting a PhD, working in startups, government, industry, etc. The guest speakers were very useful in providing guidance based on their experience. Listening to them helped me narrow down the potential paths I'd want to take. The rigorous coursework that this program offers helped me hone my scientific and business knowledge. Furthermore, my internship at Immunomic Therapeutics Inc. gave me real world experience and allowed me to pursue working around the business side of the industry which I found incredibly useful to becoming a more well-rounded candidate for working in the industry.
I am now working at Regeneron Pharmaceuticals as a scientist doing GMP Cell Culture. I find the work very rewarding as I get to be a part of a team that makes drugs to help people and hearing patients tell their stories is just icing on the cake. This program helped understand the numerous options that are available in the life science industry and helped me get a job right after I graduated. I am forever grateful to Georgetown's Biotechnology program and all of the amazing people who make it possible!